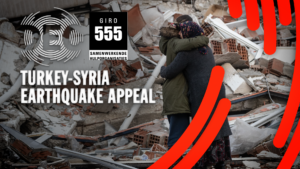 ERC Donation Week
Disasters Emergency Committee  /  Samenwerkende Hulporganisaties – Giro 555
A series of devastating earthquakes have hit southern Turkey and north-west Syria killing over 33,000 people and injuring many more.
The first deadly earthquake struck while people were inside their homes, asleep in their beds, with no warning signs. Thousands of buildings, including hospitals and schools, have collapsed and infrastructure has been badly damaged. Local responders are desperately searching through the rubble for survivors.
People have been left without shelter in freezing winter conditions and desperately need blankets, emergency shelter, food and clean water.
DEC in the United Kingdom and Giro 555 in the Netherlands charity and their local partners are among the first responders providing urgent help. Immediate priorities are search and rescue, medical treatment for the injured, shelter for those who have lost their homes, heating in safe spaces, blankets, warm clothes, and ensuring people have food and clean water.
We can help people affected by the crisis by making a donation and helping to raise money for the DEC / Giro 555 appeal. This will allow DEC / Giro 555 charitiy and their local partners to scale up their response and reach more people.
For each booked transport in week 7 European Road Cargo will donate Euro 25.- to DEC / Giro 555.
What can we do with Euro 25.-?
• blankets can be provided to keep two people warm
• emergency food can be provided for a family for more than a week
• emergency shelter can be provided for one family
We are looking forward to your bookings and hope together we can make a generous donation.
Together we can save more lives!